Men's Cowboy Boots
Pinto Ranch is here to help you take the uncertainty out of buying handmade boots. With our decades of expertise making sure our customers find the perfect fit, we'll make sure your boots are perfect for you. If you need additional information, feel free to give us a call at 800-393-8001 or shoot us your questions at howdy@pintoranch.com.
SIZE/CONVERSION CHARTS BY BRAND
Toe
Pinto Ranch offers a variety of toe shapes and heel styles so every customer can find a boot well-suited for his or her particular lifestyle and personality. 
See our full gallery below.
COMMON TOE TYPES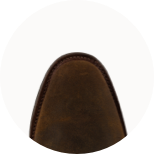 Round
A traditional rounded western toe, it is timeless and elegant.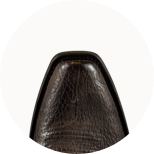 Snip
Snip toes are pointed toes with the very tip squared off.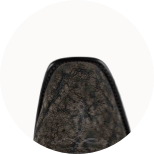 Square
A modern take on the classic western style, this square toe is one of our most popular.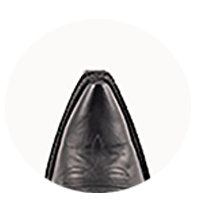 Pointed
Originally designed to easily slide into stirrups, pointed toe boots are now often seen as a more formal option.
Width
MEN'S BOOTS
Men's Cowboy Boots are typically sized in B, D and EE widths.
B = Narrow
D = Medium/Average
EE = Wide
Not so fun fact: Our feet get wider with age and weight. This can change the size/length as well as the width measurement of your foot. This also means the cowboy boots you bought 10 years ago might not be the size you need today. Feel free to call us and talk to our boot experts if you have any questions about buying boots!
How to try on boots
When trying on your boots, you'll want to check to make sure they're the right fit. We made a perfect fit checklist for you that will help assure you've chosen the right size.
1 Did your foot audibly pop into the boot?
2 Is the ball of your foot in the widest part of the boot?
3 Is the point of your toe in the middle of the toe box or about 1 inch from the end?
4 Do your toes have wiggle room?
5 Does the boot fit like a firm handshake across your instep?
6 Is there a 1/4 inch slip in the heel?
Fit Frustrations
Check out some common frustrations boot customers have when searching for their perfect fit.
1 High Foot Arch?
We suggest a boot by Stallion Boots as they tend to have a looser instep and the Stallion Zorro Boots feature a zipper for easy entry.
2 Two Different Sized Feet?
60% of people have one foot bigger than the other. If this is you, we suggest matching the size of your larger foot. Using a cushioned insole or thicker socks will make up the difference for the smaller foot.
3 Flat Feet?
For our flat-footed friends, Roper boots will be the most comfortable. Ropers are made to fit more like a shoe with a low walking heel and round toe.
4 Athletic Calves?
All calves are not created equal. Lucky for you, we have many western boot shapes and sizes. A Roper style, Stallion Zorro or any boot shorter than the traditional 12" shaft height should do just fine. We can also put the boots on boot stretchers to stretch the shaft, but only by about 1" wider. Any more stretching may damage the integrity of the boot.